Using Mobile Health Technologies to Improve Patient Engagement in Diabetes
Type 2 diabetes is a major challenge in the US and globally.  Much of the potential progress in prevention and chronic disease management is directly linked to patient motivation and behavior.  This one year project, funded by the Anthem Foundation, sought to harness Berkeley faculty and graduate students, in partnership with industry and community organizations, to advance innovative solutions in adult diabetes prevention and management. The project involved multiple activity streams:
Literature review/evaluation of efficacy of solutions/programs/initiatives aimed at diabetes prevention & management
Landscape scan/ assessment of emerging digital health solutions, both patient and provider facing
A diabetes focused design challenge that asked participants to create innovative approaches to prevention/management or find ways to increase adoption/success of existing solutions
Multi day conference on Innovations In Diabetes Prevention & Management hosted at Berkeley w/ range of presenters/panels and the finals of the design challenge
Development of white papers, dedicated website as dissemination tool for community/industry access outcomes of the previous 4 elements
Symposium on Innovations in Diabetes Prevention and Management
BCHT held a symposium April 28-29, 2016 to explore Innovations in Diabetes Prevention and Management. The first day of the two day event included a keynote address by Stephen Shortell, a conversation with Lisa Suennen and Amy Belt Raimundo on methods for effective behavior change, and a panel on digital solutions for the underserved with Stephen Shortell, Julie Schmittdiel, and Neil Sehgal.  Videos of the day's activities are posted below.
The Hack2Health Design Challenge finals were held on day two. The day began with a keynote address by Dan Gillette, Research Specialist, CITRIS, who also served as judge with Rhonda Shrader, Director, Institute for Business Innovation at Haas School of Business.
Team Sidekick (Hansen Lui, Inez Rahario, Jason Yee, Susan Lee) took top honors in a year-long competition Hackathon that challenged participants to design an innovative digital health solution promoting sustained patient engagement and behavioral change in the prevention or management of type 2 diabetes.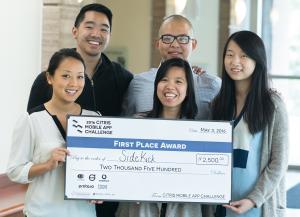 Sidekick also won first prize the next day in the 2016 CITRIS sponsored semester-long competition(link is external) for undergraduate and graduate students to develop mobile apps for social impact in Civic Tech & Smart Communities, Education, Energy, Climate & The Environment, and Health.
This symposium was made possible with generous support from the Anthem Blue Cross Foundation.