Berkeley Center for Health Technology (BCHT) conducts research into existing and improved criteria for insurance coverage, provider payment, consumer cost-sharing, and organization and management of biomedical innovation.
BCHT provides academic programs for UC Berkeley graduate students and professional development for health care and life sciences firms.
View a video introduction to BCHT research - Innovation & Affordability: Making Research Accessible & Interactive.
IN THE NEWS
BCHT article published in New England Journal of Medicine: Association of Reference Pricing with Drug Selection and Spending

Association of Reference Pricing with Drug Selection and Spending by BCHT researchers James Robinson, Christopher Whaley, and Timothy Brown has been published in the August 17, 2017 issue of the New England Journal of Medicine. The article discusses the effects of implementing reference pricing, a new insurance design, on drug selection and spending for patients covered by employment-based insurance in the United States. The study found that implementation was associated with significant changes in patient drug selection and spending. 
BCHT STORIES: Inaugural site highlights University Research, Innovation in Diabetes Care, and Insurance Benefit Design, on storytelling platform
UC Berkeley Center for Health Technology (BCHT) announces the launch of BCHT Stories (bcht-stories.berkeley.edu), a website on a new interactive Livestories storytelling platform, with easily accessible information about health policy and research.
The inaugural site highlights the year-long Innovations in Prevention and Management of Diabetes project and BCHT's current work on Reference Pricing, a new insurance benefit design. New topics will be added over time. Topics are illustrated with trusted data sources, publications, conference video footage, and interactive graphics, and emphasize evidence based research. 
Stay tuned! The next additions to BCHT Stories (bcht-stories.berkeley.edu) will be Drug Pricing 101, and a future story-sharing function that will allow readers to contribute their personal "stories" relating to the highlighted topics.
Reference Pricing Changes The 'Choice Architecture' Of Health Care For Consumers published in March Health Affairs issue
As part of a March Health Affairs issue examining health care delivery system innovations, James Robinson, Christopher Whaley, and Tim Brown analyzed the efficacy of reference pricing (full article) - a new component of health insurance design that motivates the patient to select low-price, high quality care settings for "shoppable" health care services. They looked at the impact on patient choice, prov ider prices, surgical complications, and employer spending and estimated that expanding reference pricing efforts to more services could reduce spending for the commercially insured population by as much as 8.6 percent.
Medical Innovation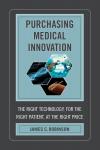 Purchasing Medical Innovation: The Right Technology, 
                         for the Right Patient, at the Right Price
                                      By James C. Robinson, Director, BCHT;
     Leonard D. Schaeffer Professor, Health Economics, UC Berkeley School of Public Health
Innovation in medical technology generates a remarkable supply of new drugs, devices, and diagnostics that improve health, reduce risks, and extend life. But these technologies are too often used on the wrong patient, in the wrong setting, or at an unaffordable price.    
more