Berkeley Center for Health Technology (BCHT) conducts research into existing and improved criteria for insurance coverage, provider payment, consumer cost-sharing, and organization and management of biomedical innovation.
BCHT provides academic programs for UC Berkeley graduate students and professional development for health care and life sciences firms.
IN THE NEWS
BCHT Co-Director invited to speak for 2nd year at international seminar held at the Universidad de Chile
BCHT Co-Director Kim MacPherson was featured as keynote speaker at the international seminar: "Challenges for innovation in public health policies" in 2016, and has been invited back again in 2017. The conference, sponsored by The Da Vinci Community, part of the Academy of Innovation, Universidad de Chile, is held in the Faculty of Medicine Auditorium at the university.
11th Annual Descartes-Berkeley-Strasbourg health care colloquium held in Paris 

BCHT jointly sponsored the 11th Annual Descartes-Berkeley-Strasbourg health care colloquium, held  December, 2016, at the University of Paris, with the University of Paris Descartes (Schools of Medicine and Pharmacy) and the University of Strasbourg.  The colloquium is a collaboration, bringing together senior governmental officials, regulators, industry executives, and university researchers engaged with biopharmaceutical market access, pricing, and use in France and the USA.   Agenda
Award
BCHT Director James Robinson won the Patient Access Network (PAN) Foundation award for the best article written from a commercial insurance point of view for his paper The Redesign of Consumer Cost Sharing for Specialty Drugs at the California Health Insurance Exchange, published in the American Journal of Managed Care, March 2016.
Medical Innovation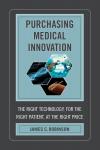 Purchasing Medical Innovation: The Right Technology, 
                         for the Right Patient, at the Right Price
                                      By James C. Robinson, Director, BCHT;
     Leonard D. Schaeffer Professor, Health Economics, UC Berkeley School of Public Health
Innovation in medical technology generates a remarkable supply of new drugs, devices, and diagnostics that improve health, reduce risks, and extend life. But these technologies are too often used on the wrong patient, in the wrong setting, or at an unaffordable price.    
more